If you do not have access to the email address on file with BioSig-ID you must...

Update your email address with your institution.

Gain access to the email address though their IT department.

Incorrect Email Address:

It is important to carefully compare the email address shown in the BioSig-ID window with the email address you are accessing.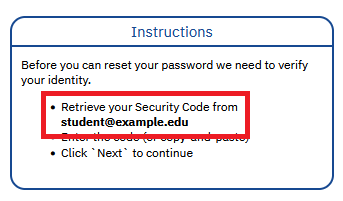 Email on file within the instruction box durring reset
The email address at first glance could appear to be correct, however occasionally email addresses are entered in error.

BioSig-ID will not send a reset code to any email address other than what is on file with your institution.
Still can't reset?

If you still can't reset your email address there may be email filtering enabled on your mailbox.

You can reach out to your institution and update the email address on file to something new if you feel this is the case, otherwise please consult your email administrator.


BioSig-ID does not have access to update your email address. You can only change your email address through your institution directly.