This article address the steps to complete an exam with BioSight-ID™.

Before you begin your BioSight-ID exam:

Check that your camera and microphone are functional.


We recommend placing a call in another application to a friend or family member to confirm both devices work.


Ensure that you are on a stable internet connection.


If you are are on WiFi we recommend switching to a hard wired connection to prevent drops in connectivity.


Ensure your system meets the minimum video card requirements, and update your drivers.


You must be in a full browser for your BioSight-ID session, such as Chrome, Safari, or Firefox. You can not use the Blackboard or Canvas mobile apps.
Cheating policy:

Any questions pertaining to what activities are allowed should be directed to your school.

BioSight-ID does not determine what activities are considered cheating, it merely ranks sessions for instructor to review.

Schools do not generally accept:


Notes


Eating

Talking


Phones


Helpers


Leaving the seat


Covering the face




Completing a BioSight-ID exam

Step 1: Locate your exam

Locate your test inside your course. When you are ready to begin click "proceed with BioSight-ID".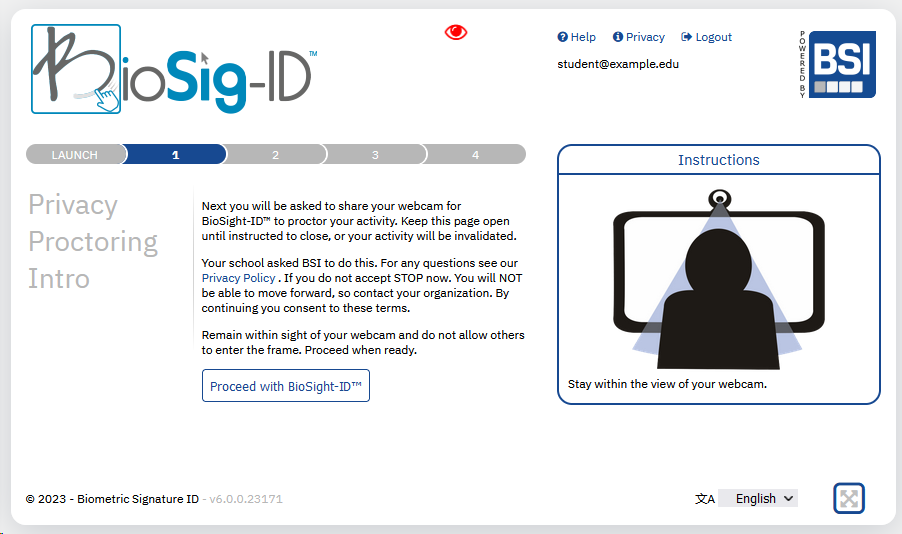 Step2: Launch BioSight-ID Monitoring

A window will pop up. This window will monitor you throughout your exam.


Closing the BioSight-ID popup after validating your BioSig-ID password will result in a policy violation. Do not close this popup until you are done with your test.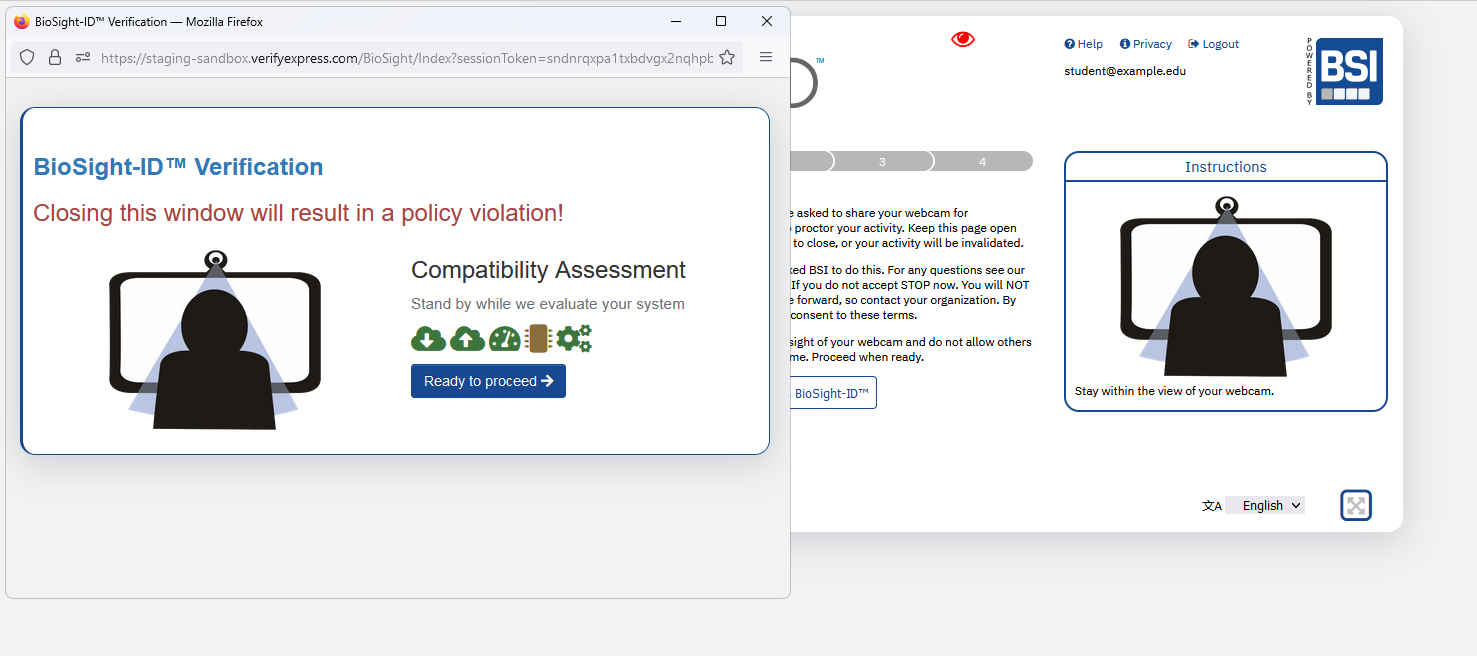 Step 3: Allow Camera and Microphone access

Click "Ready to proceed" and allow access to your camera and microphone. You will be unable to continue unless your browser can access both camera and microphone.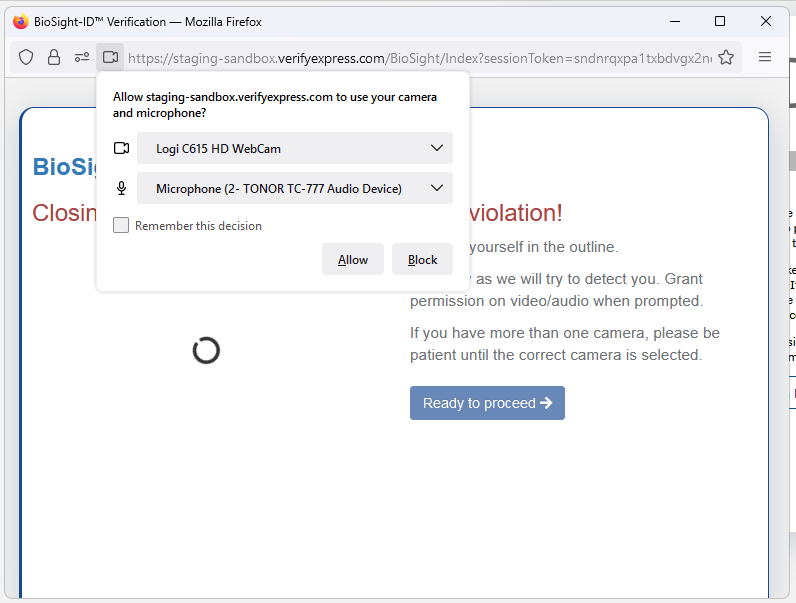 Step 4: Position yourself in frame

The camera should show your entire face from Chin to top of head.

Make sure that you are in a comfortable position as you will be expected to stay in this spot for the duration of your exam.

When you are happy with your position click "ready to proceed" and switch back to your main window.


This window is un-blurred for you so that you are able to line up your face easily. The images your instructor sees will be blurred to preserve your privacy.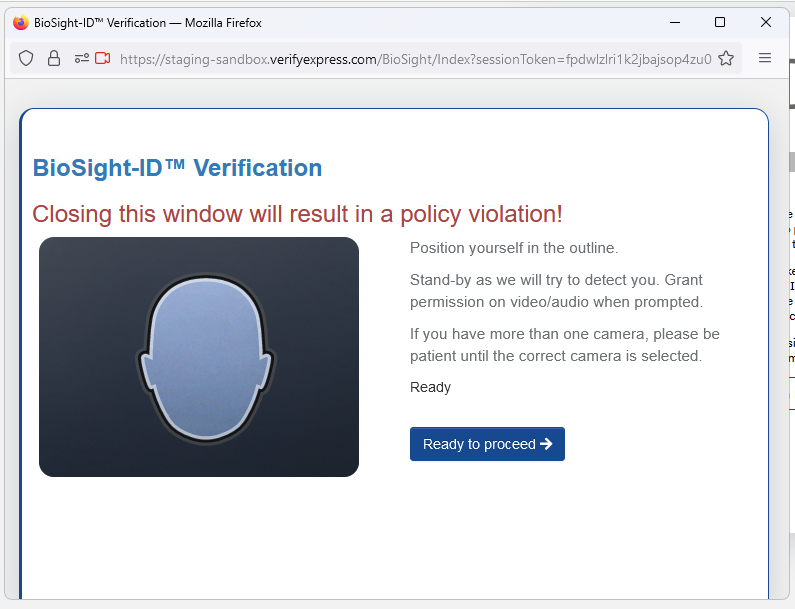 Step 5: Validate your BioSig-ID password

Successfully validate your BioSig-ID password. You will then be permitted to access your exam.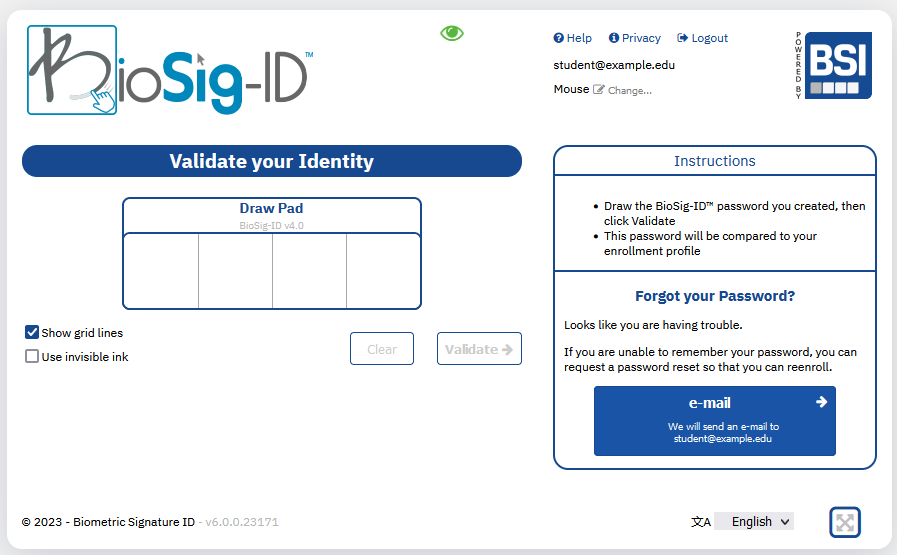 Step 6. Complete the test before closing

Once you have submitted the answers to your test you may close the BioSight-ID popup window via the X button.